SupaCard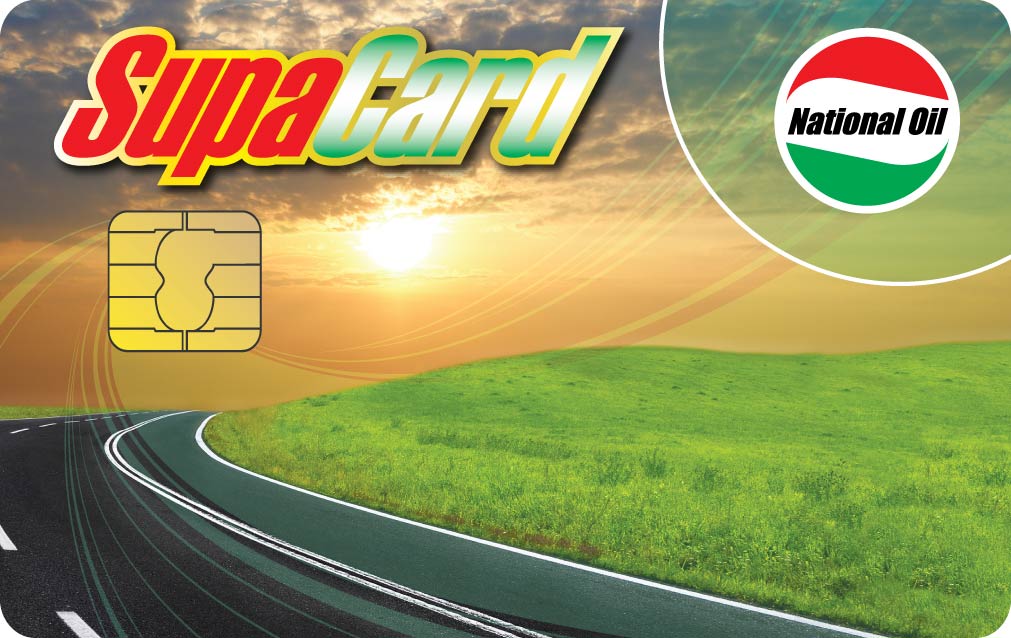 SupaCard is a payment card for Petrol, Diesel, Lubricants, Liquefied Petroleum Gas (LPG) and other services at the Petrol Stations and is issued by National Oil Corporation of Kenya. The card is a management tool that enables Fleet managers' control each driver's spending while providing access to quality fuel at National Oil locations across the country. The card embraces smart card technology hence eliminates the requirement for cash, increases security and can be customized to meet individual customer needs and has 6 months validity period or security reasons but automatically renews itself while in use.
There are two types of SupaCard:
Pre Paid Card
Post Paid Card
Pre-paid (Debit) Card:
The card is to take a maximum of 48 hours to be processed after account opening.
Replenishment can be done at the National Oil Card Centre – National Oil Buiding Kawi Complex, South C.
Cards can be paid for in cash, electronic funds transfer, cheque or bankers cheque. NB. Cards paid for by cheque are processed after the cheque clears.
The minimum amount of money per card is Kshs. 5,000 when applying for the card. It is not a deposit and can be used up to zero before replenishing. The maximum limit varies from customer to customer.
All the settings to be customized on the card are; authorized zones, mileage, time zones, and products restrictions.
Post Paid (Credit) Card
Security – Bank Guarantee equivalent to double the amount of credit as per the application is required
The post-paid card offers you on average a 45-day interest free credit
Credit period is subject to vetting
Card settings to include restrictions on:- authorized zones, mileage, time zones, and products restrictions.
Credit on the card reduces as the driver fuel throughout the month
All purchases within the month must be paid for in full on receipt of the monthly statement of account and within the credit period (normally 15 days from statement date).
Features :
Purchase Control
Purchases are controlled through an assigned PIN number per card.
Limitations on types of purchases made with the card can be restricted at any level.
Purchases can be limited by product (fuel only or all products) and/or amount.
Geographical restriction – card usage can be limited to specific areas or service stations.
Tank Capacity restriction.
With a single account, cards can be assigned to drivers and/or vehicles.
Exception Monitoring
Exceptions are identified on the Vehicle, Driver, and Exception reports.
The Vehicle and Driver Reports allow the customer to track the mile per litre variances, pattern discrepancies, product variances, excess fuel purchases and various transactions made to the account.
You have the ability to define your own exceptions.
Convenience
The Card is vehicle specific and provides a Personal Identification Number (PIN) which is used in place of a signature to validate all transactions made on the card(s) by card holder(s). This offers extra security and assurance.
Personal Web Suite – This is an application that allows SupaCard customers obtain information/reports by accessing National Oil's Website over the Internet.
Radio Frequency Identification Tag is an additional feature that is given to the fleet.
It ensures that the vehicle the driver is fueling is physically at the station. No sale will go through if the RFID is not scanned at the fueling point
Tank capacity restrictions are stored in the RFID tag
The Tag is fixed on the windscreen so that at the fueling station the vehicle the driver is fueling is confirmed to be physically at the station during fueling.
This provides extra security in fleet management. We have proposed this added value feature as mandatory for all your vehicles.
Application Forms:
Click here to download Card Application Form.
Click here to download Card Ordering Form.
For Pre paid card application, kindly fill in the forms attaching copies of PIN certificate, VAT certificate, Certificate of Incorporation or Corporation Act. For individual applicants, attach a copy of I.D/Passport.
For Post paid card application, fill in the forms attaching PIN certificate, VAT certificate, Certificate of Incorporation or Corporation Act and a Bank Guarantee equivalent to double the monthly credit amount. Format of the Bank Guarantee letter can be provided by National Oil upon request.
For more information please contact
Card Centre Staff on 6952000/ 0734333000 (Weekdays: 8am-5pm)
E-mail : cardcenter@nockenya.co.ke
PERSONAL WEB SUITE
To access your fuel card account click the image below