National Oil Foundation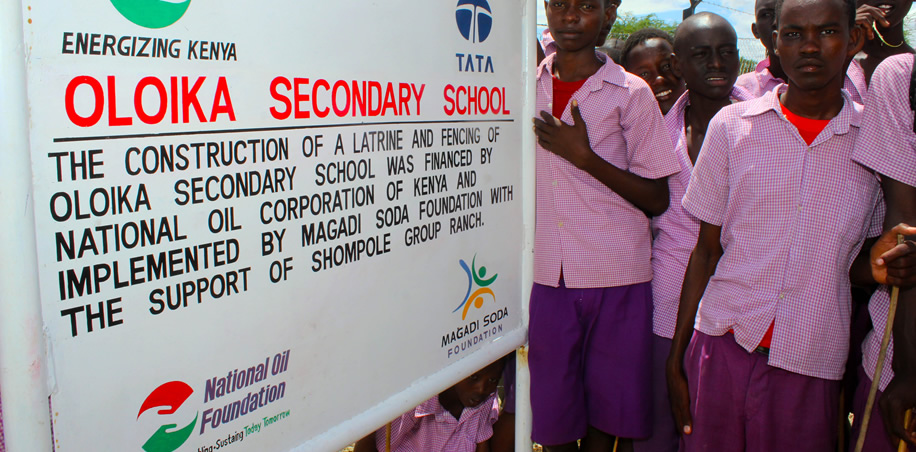 About Us
The National Oil Foundation is a not-for-profit initiative by National Oil and its business partners. The Foundation is a platform and tool for resource mobilization and investment in community projects.
The Foundation is registered as a charitable trust and is overseen by a Board of Trustees drawn from National Oil, partners and state agencies including the Ministry of Energy and Petroleum and the National Treasury.
Need for the Foundation
Over the years, National Oil has actively participated in the lives of its host communities with a growing portfolio of high value social investments. These efforts have however not satisfied the growing need in these communities. With this reality, the National Oil Board of Directors sought to create a platform through which National Oil and its partners would pool together financial, technical and human resources to invest in community projects.
Thematic Areas
Environment is the pillar upon which National Oil has developed its thriving business reputation. For National Oil, the environment in all aspects-physical and social-is the platform upon which successful businesses should be developed. The National Oil Foundation's environment programme covers a wide spectrum of areas including climate change adaptation, environmental conservation and management.
National Oil's safety motto has always been, "If it is not safe, it is not worth trying." It is from this strong culture of safety, in its entirety, that the Foundation crafted. As a fully integrated oil and gas company, safety is very critical not just to National Oil's business processes but also to the wellbeing of the users of its products. The Foundation is set up to be involved in interventions that address all forms of safety related to the oil and gas sector including road and LPG safety.
With the recent discoveries of commercial quantities of oil and gas in Kenya, the demand for locally trained professionals to serve the emerging oil and gas sector is on the rise. A 2014 study by Africa Oil and Lundin Foundation on skills and training needs for Kenya's emerging upstream oil and gas sector indicated that between 6,000 and 15,000 new jobs will created during the next 10 years. It is with this knowledge that National Oil has taken up the responsibility of spearheading the process of developing local capacity ahead of the expected increase in demand of trained human resources as Kenya enters the league of oil producing states.
Current Projects
Community Empowerment Centres

As part of our broad strategy to promote entrepreneurship among women, youth and persons with disability in rural Kenya, we initiated a programme that will us build and equip community empowerment centres in select townships across the country. These centres will act as business outlets for National Oil products including cooking gas, lubricants and othe non-fuel products. We are in the process of initiating 3 pilot community empowerment centres in Kwale County.
Greenhouses for Schools Project
Greenhouses for Schools is a joint food security project by National Oil Foundation and Anadarko Petroleum. The project was initiated in 2011 and the first phase involved distribution of 33 greenhouse kits to schools across the Coast. Beneficiary schools (students, teachers, parents, support staff and community members) were trained on greenhouse farming and supplied with inputs for the first harvest.
Over the years, the number of kits supplied has grown to 40 with the scope of beneficiaries expanded to include vulnerable youth and women groups.
The objective of the project is to address the perennial problem of starvation and food insecurity in the region through the introduction of greenhouse farming.
Schools were chosen as an entry points into their host communities because of their strategic positioning as centers of excellence in the adoption of new technologies.
Winning through sports is an initiative by the National Oil Foundation which aims to use sports as a platform for changing communities. Our focus at the moment is grass roots soccer. In the last 3 years, National Oil has supported Kibra United, a team based in Kibera slum and which comprises of young people recovering from social vices such as drug abuse, alcoholism and prostitution. We sponsor the team as well as engage the youth in entrepreneurship activities. The team members are involved in the marketing and sale of National Oil products.
To partner with us
We invite institutions and individuals interested in partnering with us to contact our Foundation Officer on email address: foundation@nockenya.co.ke.